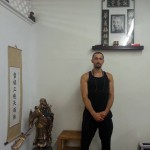 Master Damian Neve
Master Damian Neve is a martial arts instructor and personal trainer with 20+ years coaching experience specializing in Traditional Korean Karate (TangSooDo/TaeKwonDo), Yang TaiJi Chuan, Boxing & Kickboxing, and Modern Combatives. He started his training at the age of 3 and holds a 5th dan black belt in the lineage of Grandmaster Won Kook Lee and Sgt Lee Jin Ho of the ROK Capital Division aka "Korean Tigers." In addition he has studied many other systems and incorporates the concepts into our  programming from various disciplines such as Wing Chun, Aki-Jujitsu, Mizongyi, and more.
While an assistant manager of a medical school he became the apprentice of a Chigong Master studying Tui-na in addition to Ch`an and Pure Land Buddhism while researching western anatomy in his leisure. This enabled him to create our mobility systems which include program designs for both clients and trainers that are used as prehab and rehab for all levels and circumstance.
He is a Certified Personal Trainer under the National Council on Strength and Fitness and ExpertRating, a Functional Movement Systems Certified Specialist, and holds credentials for instruction of KettleBells and TriggerPoint-Myofascial Compression techniques.  Damian is a former member and instructor of NYC Guardian Angels as well as instructor to members of various law enforcement and military agencies.
With his extensive knowledge of both eastern and western philosophies gives him a unique perspective on human movement and helped him create our proprietary training systems.  He has managed, owned and operated several fitness facilities in NYC which lead him to becoming a Master Instructor and Tier 3 trainer for Equinox – Flatiron NYC,  where he developed curriculum and workshops for trainers of all levels in subjects such as anatomy, kinesology, client coaching, and supplemental preparations for various nationally accredited certification courses.
Damian founded ExpertMovement to pursue his dream of creating a unified community of experts and enthusiasts in the new age of modern fitness.  With over 3 decades of training in various systems of eastern and western philosophy and science, he has the unique ability to find common ground between many schools of thought and deliver it with just the right combination of text book knowledge and intuitive application. In recent years he has spent much of his free time studying Anatomy Trains and working toward implementing practical understandings of applications for our future movement specialists world wide.
Currently he is designing our online training program and mobile applications in conjunction with our team of experts from around the world and the beta release is scheduled for mid 2016.
For bookings of sessions or seminars contact info@Expertmovement.com or call 347.469.1120 for a consultation.